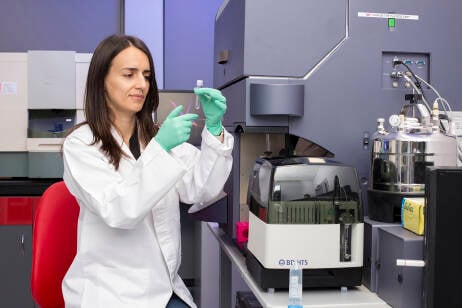 CAP012 SAMBA Trial
The results suggest that VRC07-523LS would be the best candidate to take forward into larger-scale efficacy studies. The CAPRISA 012 team is also evaluating VRC07-523LS in further studies alongside another broadly neutralising antibody, CAP256V2LS.
A phase II study of CAP256V2LS and VRC07-523LS has also been initiated, with the first participants recruited in South Africa in November 2021. Recruitment in Zambia is due to start in 2022. As well as additional data on safety and antibody levels, this study will provide initial indications of the potential of the antibody combination to prevent HIV infection in young women.
The programme of work is also a notable example of therapeutic development driven from within sub-Saharan Africa. The broadly neutralising antibodies under investigation were isolated from people in the region, and their potential therapeutic application has been spearheaded by academic institutions in sub-Saharan Africa.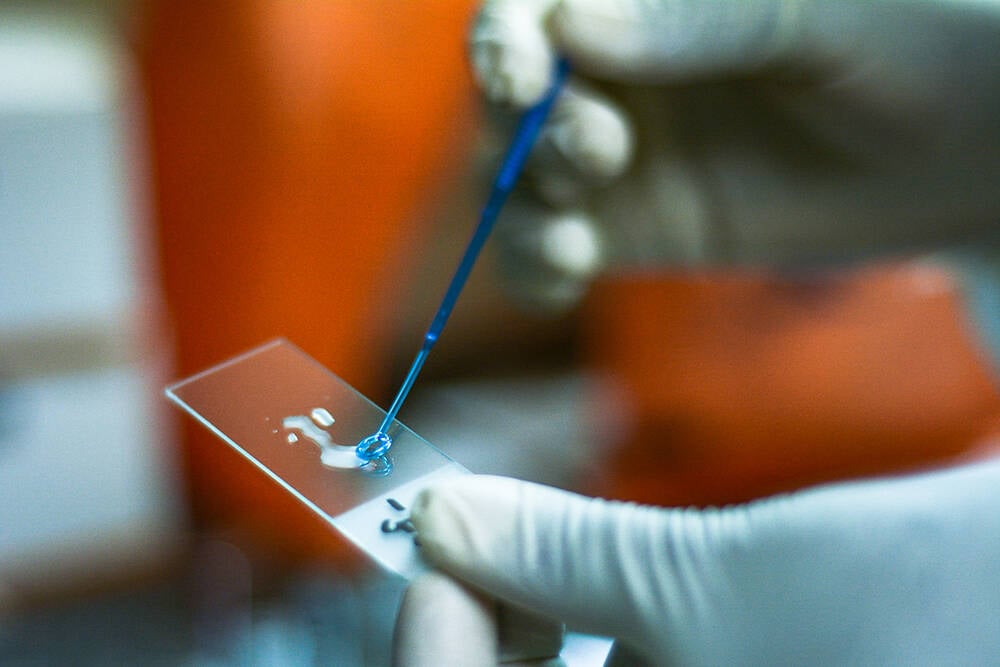 This approach would enable women to be in control of protection against infection. Although this is already possible through the pre-emptive use of antiretroviral drugs, this is associated with significant adherence challenges linked to stigma and the need to take tablets regularly.
The CAPRISA 012 study is evaluating the safety and persistence of several broadly neutralising antibodies. In work published in 2021, it found that two such antibodies, known as VRC07-523LS and PGT121, were safe and well-tolerated, when given individually or in combination. Both retained virus-neutralising ability after injection and showed good persistence over time, particularly VRC07-523LS.
Despite some progress, 1.5 million new HIV infections occur each year. In southern Africa, women are at particular risk of infection. In the absence of an effective vaccine, there is hope that broadly neutralising antibodies – rare antibodies that neutralise a wide range of HIV types – could offer an alternative approach to prevent infection. The goal would be to manufacture large quantities of these antibodies, which could be injected and provide protection for several months.
The CAPRISA 012 study has identified monoclonal antibodies with the best potential to provide long-lasting protection against HIV infection.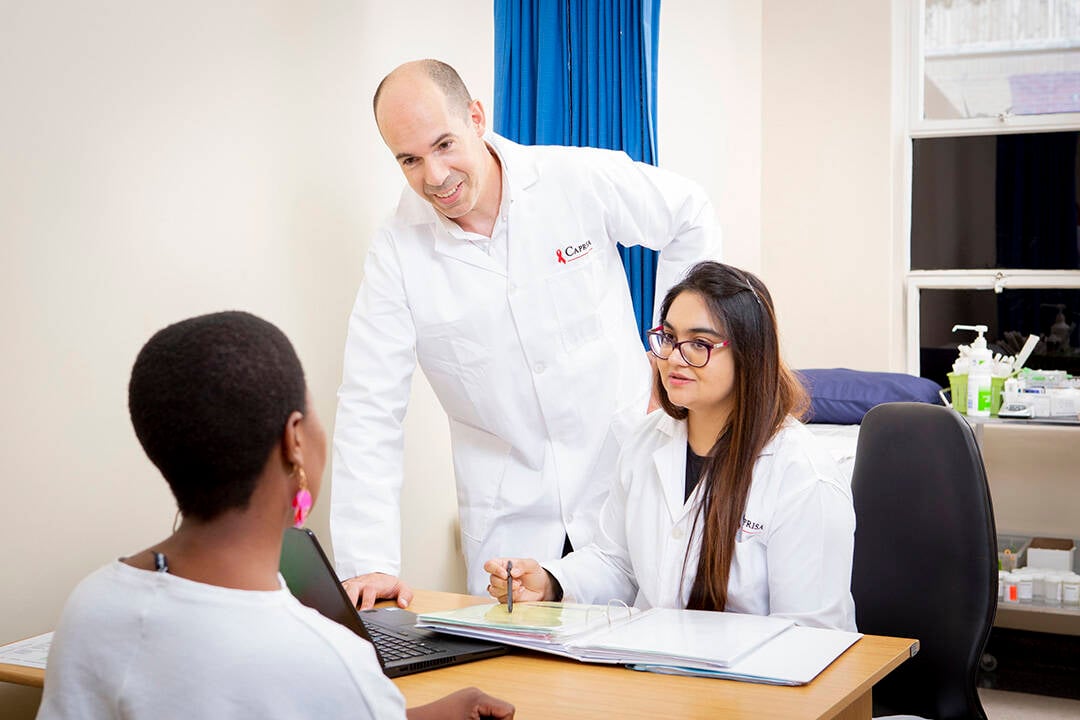 Monoclonal antibodies for HIV prevention
Dr Aida Sivro working at CAPRISA's main laboratory
Dr Sinaye Ngcapu, CAPRISA researcher
Prof. Salim Abdool Karim and and Prof. QuarraishaAbdool Karim with trial participant.
Project: CAP012 SAMBA project
Project lead: Professor Salim Abdool Karim, Centre for the AIDS Programme of Research in South Africa, South Africa
Countries involved: France, the Netherlands, South Africa, Zambia
Year funded: 2019
EDCTP funding: €9.3 M
Grant agreement: RIA2017S-2008
Project website: www.caprisa.org/Pages/EDCTP-funded%20studies
Professor Salim Abdool Karim
(South Africa)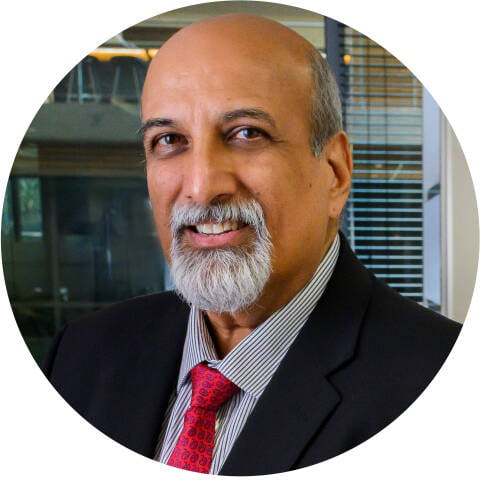 What comes next for the project?
Salim S. Abdool Karim: The phase II studies evaluating CAP256V2LS and VRC07-523LS administered subcutaneously in HIV-negative women have started in South Africa and will be launched in Zambia soon. The CAPRISA 012 trial aims to fast-track and efficiently advance passive immunisation as an emerging HIV prevention strategy to phase III testing and product registration.
What progress was made in 2021 towards the project's objectives?
Salim S. Abdool Karim: The phase I studies assessing the bnAbs PGT121, VRC07-523LS and CAP256V2LS alone and in combination have been completed. Results demonstrated safety with favourable pharmacokinetic profiles. Based on these findings, the combination of CAP256V2LS and VRC07-523LS was selected to proceed to phase II trials.
This project is also a notable example of therapeutic development driven from within sub-Saharan Africa. How has this been achieved and what is the importance of this African-led collaborative research?
Salim S. Abdool Karim: The monoclonal antibody CAP256V2LS currently being evaluated was isolated from a South African woman in 2013 and developed as a potential preventive or therapeutic option by a consortium of researchers in Africa and the USA to address the highest HIV research priority in Africa – HIV prevention in women. If shown to be effective, injectable bnAbs will offer a distinct advantage by providing young women with a safe, long-acting HIV prevention option, with the potential to alter the course of the HIV epidemic in Africa.
The CAP012 SAMBA trial builds on the discovery of a broadly neutralizing antibody against HIV prevention. Why is this approach special?
Salim S. Abdool Karim: HIV/AIDS remains one of the greatest global challenges facing humanity. UNAIDS estimates that 38 million people were living with HIV and 1.5 million people acquired HIV in 2021. More than two out of every three people with HIV infection live in Africa, where young women aged 15 to 24 years have the highest rates of new infections globally. Preventing HIV infection in young women is one of the most crucial challenges in HIV prevention in Africa. Since women are often unable to convince their male partners to use condoms, to remain faithful or have an HIV test, there is an urgent need for a safe and effective woman-controlled HIV prevention technologies in sub-Saharan Africa.
Existing HIV prevention options for women are limited, with adherence to a daily tablet being a key stumbling block. A 6–12-month prevention technology could be a game changer as a potential provider-initiated HIV prevention approach. Given the absence of an effective vaccine for HIV prevention, passive immunization strategies that utilise potent broadly neutralising antibodies (bnAbs) to block acquisition of HIV are being evaluated. Pre-clinical studies have shown that bnAbs confer protection in animal models, and several early clinical trials of bnAbs have shown safety, with favorable pharmacokinetic profiles. Results from the first efficacy trials evaluating the bnAb VRC01 provided some evidence that a bnAb may be able to prevent HIV infection, even though it did not demonstrate efficacy.
Passive immunisation with broadly neutralising antibodies could offer a novel way to block HIV infection.
CAP012 SAMBA trial