The Reg. Science-Fellows project is developing a cohort of people in southern Africa with practical experience of regulatory assessment. It is organising a fellowship scheme jointly managed by the Medicines Control Authority of Zimbabwe and the University of Zimbabwe. Its aim is to develop a cohort of medicines reviewers and regulatory science professionals with particular expertise in key areas of product assessment. During 2021, it continued to organise short courses for regulators and regulatory affairs professionals in southern Africa.
Among other events, the SEN-ETHICS project, which is enabling Senegal to strengthen and harmonise its regulatory processes for clinical research, hosted a webinar on 'Ethical Issues on the response against the COVID-19 pandemic: Experts' viewpoint' in 2021. In addition, the AFREENET project, which concluded in February 2021, held a training session dedicated to the questions that arise during outbreaks, bringing together 40 participants from ethics committees in Guinea, Côte d'Ivoire and Benin.
The BERC-Luso project, which is building ethics review and clinical research oversight capacity in five Portuguese-speaking countries (Angola, Cape Verde, Guinea Bissau, Mozambique and Sao Tomé and Príncipe), organised more than 30 webinars and meetings with partner institutions in 2021. Topics discussed included informed consent in pandemic times, clinical research and procedures during pandemics, and innovation and clinical research.
The project also organised intensive training sessions on biomedical research and clinical trials, which were attended by five trainees from each of the five countries participating in the project. It also offered a six-day practical internship opportunity in Lisbon, Portugal.
EDCTP's contribution towards ethics and regulatory activities in Africa






Establishment of new national ethics committees where these do not exist.
Increased public awareness of research ethics review and regulatory oversight of clinical trials.
Higher qualified staff of national ethics committees and national regulatory authorities in research ethics and ethics evaluation.
More efficient turnaround times of study protocols and effective pharmacovigilance reporting.
Improved compliance of legal frameworks for national ethics committees and national regulatory authorities with international standards.
Improved efficiency of national ethics committees in providing research ethics oversight. EDCTP-supported ethics and regulatory projects are being conducted in 38 sub-Saharan African countries.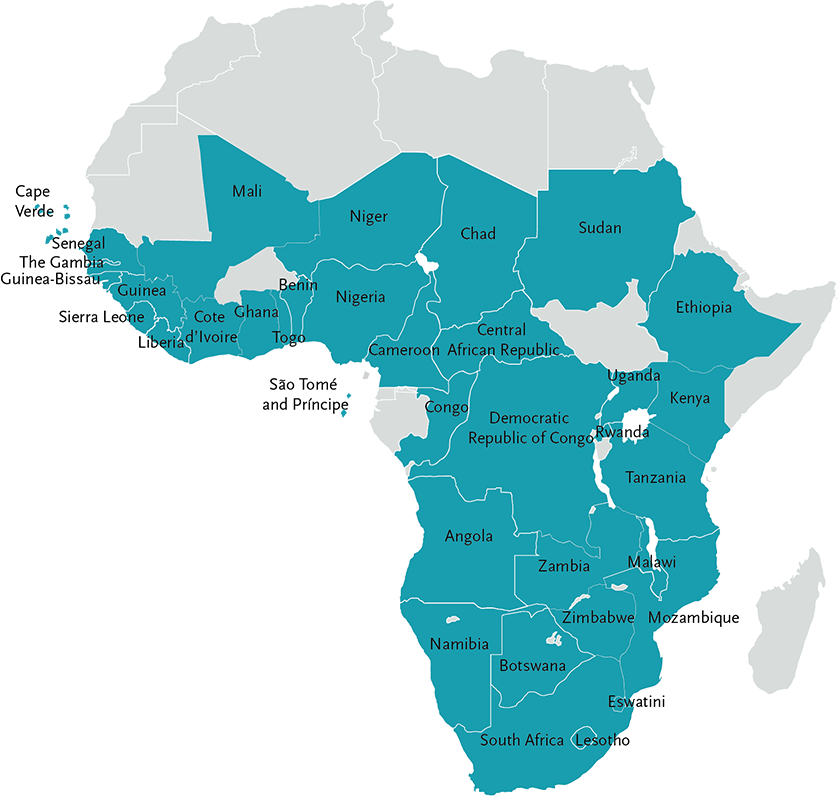 In 2021, the BCA-WA-ETHICS II project also launched its virtual research ethics secretariat. This is a virtual helpdesk available to all West African national research ethics committees (NRECs) free of charge. The aim of the secretariat is to strengthen the process of ethical research review in West Africa and to harmonise protocol-evaluation tools. The secretariat works directly with members of NRECs, assesses their needs, and provides technical support to improve their capacities in governance, research ethics, gender mainstreaming and systematic evaluation of research protocols.
The year also saw the launch of the latest edition of the Procedural Manual of the National Health Research Ethics Committee of Senegal. This gender-sensitive manual, developed in collaboration with the BCA-WA-ETHICS project, aims to improve the quality of health research conducted in Senegal, taking into account the needs and experiences of different population groups. The manual will be shared, to inspire other national ethics committees to integrate sex and gender considerations into their procedures.
Building on the success of the BCA-WA-ETHICS project, its follow-up – BCA-WA-ETHICS II – was launched in 2021. The project, spanning institutions in Benin, Mali, Senegal and Spain, has had a strong emphasis on gender issues and mainstreaming a gender perspective into all aspects of ethics review. In 2021, it published the French version of its publication 'The ethicist's practical guide to the evaluation of preclinical research from a sex and gender perspective'. It also organised a virtual conference, 'Lumière Du Sud: Établir des alliances pour l'Agenda 2030 avec les femmes scientifiques africaines' (Light from the South: Establishing alliances for the 2030 Agenda with African women scientists), to promote the contributions of African women scientists.
In November 2021, BCA-WA-ETHICS II launched its webinar series 'Biostatistics for ethicists', which aims to strengthen the capacities of ethicists and research evaluators in biostatistics and research methodology. The webinar attracted 32 participants from six sub-Saharan African countries. Further webinars are being held in 2022, and are available to view on the project's website. At the end of 2021, the project also opened registration for the first virtual training programme in its e-learning work package, 'Training on research ethics, gender mainstreaming, NREC governance, and audit preparedness'. The course took place over seven days in January 2022.
EDCTP funds multiple South–South and South–North consortia aiming to build capacity in ethics review and other key oversight activities, providing opportunities to share experience and encouraging mutual learning. Although the COVID-19 pandemic meant that many planned activities took place online rather than in person in 2021, projects were still able to advance their capacity-building agendas, and organise activities of direct relevance to the pandemic.
As well as having scientific capacity for clinical research, it is also critical that countries in sub-Saharan Africa are able to ensure effective governance of all stages of clinical research studies. This includes ethics review of research proposals, through institutional and national research ethics committees, and monitoring of clinical studies in progress. These activities are important for protecting the interests, health and wellbeing of study participants, and to maintain public trust in research.
EDCTP-funded projects organised multiple events and training activities in 2021 to build capacity in ethics review and clinical research oversight.
Building ethics review and regulatory capacity