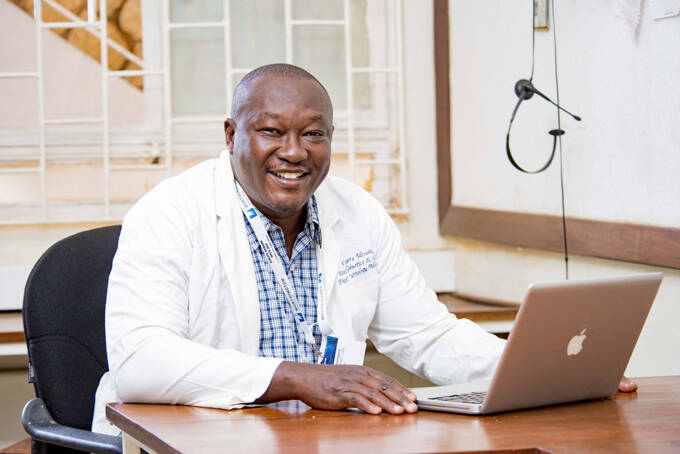 This breadth and depth of experience made Dr Wayengera ideally placed to contribute to Uganda's response to COVID-19, another emerging viral threat. Since early 2020, Dr Wayengera has chaired the Uganda Ministry of Health and the national task force's scientific advisory committee on COVID-19.
In addition, Dr Wayengera has applied his expertise in rapid diagnostics to further the development of low-cost and easy-to-use testing platforms for COVID-19, including simple lateral flow tests suitable for use in remote settings. He has also advocated for the development and use of novel small-molecule inhibitors of SARS-CoV-2, to prevent the progression of COVID-19 to severe disease.
Dr Wayengera's EDCTP-funded fellowship research focused on the characterisation of viral epitopes from Ebola virus isolates from the 2014–2016 Ebola outbreak in Sierra Leone. He has also led the development of a rapid diagnostic test that detects Ebola and related viruses (a pan-filovirus rapid diagnostic test, Pan-filo-V RDT), research that was supported in part through EDCTP emergency funding associated with the Ebola outbreak. The RDT validation is undergoing partially supported by the EDCTP Ebola Emergency Grant.
Dr Misaki Wayengera, an EDCTP Career Development Fellow between 2018 and 2020, has developed an impressive range of skills in medicine, research and innovation. Having trained in medicine, he has developed research interests in the molecular genetics of infectious diseases, including emerging infections such as Ebola – work that underpins the development of diagnostics, therapeutics and vaccines.
Former EDCTP fellow Dr Misaki Wayengera has been applying lessons learned from Ebola outbreaks to the control of the COVID-19 pandemic in Uganda.